Our

Philosophy

Candour Care Services are modelled on the

principles of ordinary life.
Our Aim
To provide a high quality person-specific care and support service and for people with autistic spectrum conditions and profound learning disabilities towards maximising their life potentials.
All our care services are situated in the village of Welwyn, an idyllic rural setting that offers a most suitable environment for people with autistic spectrum conditions. There is easy access to the nearby towns of Hitchin, Stevenage and Welwyn Garden City which provides comprehensive shopping and recreational facilities, together with good public transport including mainline railway stations.
Our Objectives
To offer personalised accommodation
To provide person centered care and support.
To enhance achievement of personal potentials.
To improve on personal lifestyles.
To provide high level of staff support.
To offer a broad range of activities of daily living.
Our Philosophy
Respect
Choice
Community Presence
Community Participation
Personal competence
Our Processes
Pre-admission assessment
Transition programme
Multidisciplinary Care Review
Multiagency input
Person centered planning



Independent Living Skills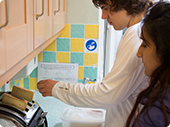 Making Breakfast, Tidying Bedroom, Vacuuming and Dusting, Walking to the Shops, Laundry, Shopping, Going for a Drive, Gardening, Cooking and Baking, Community drive.

Other Activities
Skype with family, puzzles, dvds, foot spa, spending time in the onsite sensory room, art and crafts, horse riding, going on the swings, cycling,  Day-care activities within local facilities, swimming,  aromatherapy, trampolining, fruit picking, music therapy, aromatherapy, manicure, Story reading, watching TV and using the internet.